What are digital papers?
They are digital version of the ordinary SQA exam papers or assessments.
They are for learners who:
have difficulty with reading ordinary exam papers,
or with writing or recording responses.
Schools make a request to SQA for digital papers for students who have difficulty with the traditional paper examination.
Candidates can then use a range of different technologies to both read the paper and type answers and responses on a computer, iPad or other device.
What do they look like?
There are 2 types of digital paper:
'Question and answer' digital papers
'Question only' digital papers
'Question and answer' papers


PDF file with answer boxes

in the paper itself

for candidates to type their answers on screen.
'Question only' papers
These don't have answer boxes - candidates type their answers with a word processor or with a 'Digital Answer Booklet' (in PDF or Word format).
What difference do digital papers make to pupils?
By using digital papers in examinations, and by using accessible digital learning materials more generally in schools, we can help young people fufil their potential.

Education Scotland produced a video of pupils talking about the impact that digital exams has had on their performance in SQA exams; well worth a look.
Consider this...
Can you be a...
Successful learner
if you can't read learning materials and examination papers?
Confident individual
if you depend on others to read or write for you in exams?
Responsible citizen
if you don't have access to information?
An effective contributor
if you can't speak, write or communicate independently?
Digital papers can help pupils become...
more successful learners
if you can read learning materials when they want, where they want;
more confident individuals
if you don't have to rely on a reader or scribe;
more responsible citizens
if you are learning to be independent and self-reliant;
more effective contributers
if you have learned the ways and means to contribute yourself.
Reduce reliance on readers and scribes
In 2018 in Scotland, there were:
9,564 requests for the use of a reader;
5,818 requests for a scribe for SQA exams.
That's 9,564 instances where pupils were:
sitting in separate rooms in schools in Scotland,
with a member of staff reading and/or scribing,
with a personal invigilator.
Such widespread use of scribes and readers may raise questions about independence and objectivity of assessment. In addition, schools are increasingly have difficulty finding sufficient accommodation and staff, and there are significant costs involved in paying for staff and invigilators.
Our research has shown that digital papers and technology, with text-to-speech software, can provide many students with a more independent and less expensive alternative to readers and scribes.
The good news is that technology is gradually replacing the use of reader/scribes in examinations and support using technology is now more popular than either reader or scribe. However, despite this, we calculate that 90% of Scottish state schools use readers; 89% use scribes; and only 59% use digital papers (94% use a word processor without digital paper); so there is still some way to go.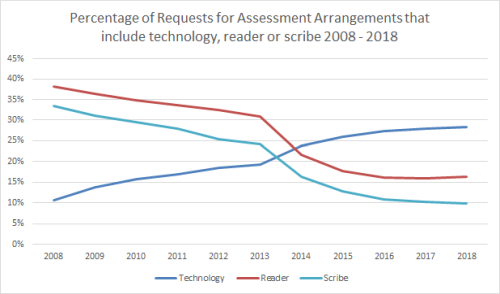 Digital papers, a bit of history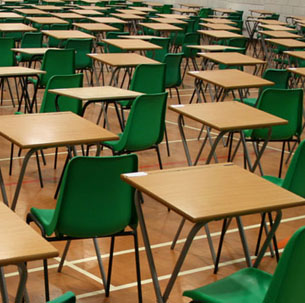 In 2002, CALL carried out an investigation for SQA into the use of ICT for candidates with disabilities and a key recommendation was that papers should be made available in a digital format, so that candidates could easily open the document and use a range of different technologies to both read the paper and write answers. We researched the features that were required with digital question papers and found that staff wanted papers that:
had the same appearance and layout as the paper, so that students could use both digital and hardcopy during an exam;
could be magnified and adjusted (for example by changing foreground and background colours on screen);
would allow students to type directly into the paper on screen;
were compatible with assistive technologies such as screen or text reader programs, specialised keyboards or access systems, or speech recognition software.
You can downloads reports about the research and pilot projects here.