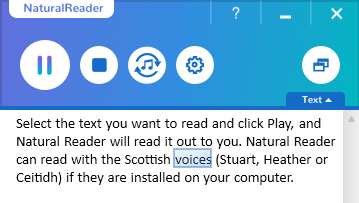 A 'text-to-speech' program or 'text reader' on your computer reads text from an examination paper, document or web page to you using a computer voice.
Why use a text reader?
Text-to-speech may help if you:
read slowly or with difficulty;
get tired, or have visual stress when you read;
have problems concentrating when you read;
have difficulty following the text with your eyes;
want to listen to the text being read out while you do something else.
A text reader can also help you with your writing. You can:
proof read your own writing;
spot mis-spelled words;
read your text back to improve sentence structure, sense and meaning.
Where can I get a text reader?
There are many text readers on the market and here are some of the free programs we recommend.



Commercial literacy support tools such as ClaroRead, Ghotit, Penfriend and Read&Write offer text-reading plus other facilities to support reading and writing, such as spellchecking, dictionaries, word prediction, etc.
Computer voices
Your computer will probably have some voices on it already, and Scottish schools can get high quality voices with Scottish accents free from our Scottish Voice website.
The voices available are:
Stuart (male adult)
Heather (female adult)
Callum (male teenager)
Isla (female teenager)
Andrew (male child)
Mairi (female child)
Ceitidh (female adult Scottish Gaelic).
The Scottish voices are installed onto your computer and sits in the background and are used by the text reader. It's not an actual program you can open. You still need a text reader program to read the questions.
Paid-for computer voices
Paid-for computer reader programs come with extra voices, and you can buy more voices in many languages from CereProc.
Computer voices for modern languages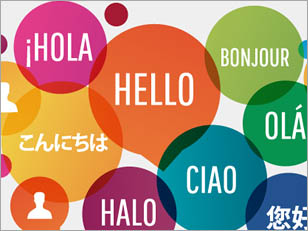 For Windows 10, you can now download free voices for French, Italian, German and Spanish.
To get the voices you need to install a Microsoft Language Pack, which can be done in several ways:
Go to Language Accessory Pack for Office and follow the instructions.
or in Word, go to Options > Language and click Get more Display and Help Languages for Office.
Or on the computer go to Settings > Time and Language > Region and Language and click Add a Language. Scroll down to find the language you want. Language Packs that have text to speech voices have the icon beside them.
When you install the Language Pack, you probably don't want to set it as your display language, and you may or may not want the Handwriting option, but you definitely want the Speech. Click Next to install the Pack.
Once the Language Pack is installed the voice should appear in the voice list of your text reader. Below we are using Stuart or Heather to read the questions in English and then get support from the delightful Hortense for reading the passages in the French paper.
You can also buy:
a text reader program that comes with voices for other languages,
or computer voices from CereProc and use them with your existing text reader.
It depends how many voices and licences you need.
For example, a typical school scenario might be that you want to buy licences for French, German and Spanish, and install them on the 10 computers in your ICT suite.
Buy voices only
You can buy single licences from Cereproc at £25.99 each, which would cost 3 x 10 x £25.99 = £779.70 + vat. This is a one-off cost.
CereProc also offer an annual licence for £45 per voice, for up to 10 users, so this would cost you 3 x £45 = £135 + vat for your 10 computers.
If you want several voices in different languages, both male and female, for several languages, contact Cereproc directly for a quote.
Buy a text reader with voices
Or, buy a text reader programme that comes with voices. A cost effective option is a site licence for ClaroRead SE which for £595 gives you a site licence for ClaroRead SE plus all 80 of their voices.
ClaroRead for PC
ClaroRead for PC is a text reader with the option of other features to support literacy such as word prediction, spellchecking, scanning and OCR, etc. You can download and install any of 80 high-quality text-to-speech voices in 30 languages.
ClaroRead is available in several versions and the table below gives some costs. The cheapest ClaroRead SE is all you need for reading digital question papers and a school site licence at £595 is good value if you want a high quality text reader with a wide range of voices in different languages.
| | Single user | School licence |
| --- | --- | --- |
| ClaroRead SE | £59 | £595 |
| ClaroRead Standard for PC | £129 | £795 |
| ClaroRead Plus for PC | £159 | £1495 |
| ClaroRead Pro for PC | £199 | £1695 |
The ClaroRead Comparison Chart shows the difference between each version of ClaroRead.
Read&Write
Read&Write is another full featured literacy support program with text-to-speech, word prediction, spellchecking and many other features. It also has 25 voices in a range of languages that you can download and install.
CereProc
CereProc created the Heather, Stuart and Ceitidh voices and sell many voices in other accents and languages. The voices will work with most text readers and generally cost £25.99 per single user/computer. Site licences are available as well: contact sales@cereproc.com.
NextUp
NextUp are a US company that sells voices from several different suppliers:
AT&T;
Nuance;
Acapela;
Ivona.
All of these companies offer voices in a range of languages. Note that the Nuance and Acapela voices only work with NextUp's TextAloud text reader (£15.75 single user).