Many staff make their own prelims using Microsoft Word or another word processor or desktop publishing program. Once you have an electronic prelim or assessment, you can convert it to PDF and add answer boxes.
You can download some Word document templates for:
Use tables to lay out the questions so that it's easier to align the question numbers, answers and marks.
Below are some hints and tips for making your own prelims in Microsoft Word.
Make your prelims accessible
So that it's faster and easier to format the paper, in our templates we use Word Headings to define the formats, e.g.
for questions (1),
sub-questions (1(a)),
and sub-sub-questions (1(a)1).
If you use Headings it also means that the assessment is properly structured which makes it is easier for learners to navigate. This also means that the assessment is properly structured which makes it is easier for learners to navigate.
To apply a heading: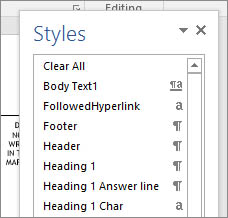 In Microsoft Word, click on the 'Home' tab and under the 'Styles' section, click the small arrow in the bottom right corner and the 'Styles' pane will appear.
Type in a question, and then click on the 'Heading 1' style - this will 'apply' the style to the sentence you have just typed.
After each question, hit the 'Return' key a few times to leave an appropriately sized space: use the prelim paper as a guide for the number of lines to leave.
Then click on the 'Heading 1 Answer line' style, which will add a line underneath the question. By adding a line in this way, Acrobat will automatically insert an answer box after you convert the paper from Word to PDF.
To type a sub-section for a question, type in the text and then click on the 'Heading 2' style.
If you want to add a line manually, without using the styles, select a line (double click on it), click on Format > Borders and Shading and then click on the button to add a border underneath the line.
Follow good practice guidelines to create an accessible Word file: refer to our Accessible Text book.
Copy and paste questions from a PDF
Teachers traditionally made prelims and assessments by physically copying and pasting questions from exams and then photocopying the end result. You can do the same by copying and pasting from a digital original.
Go to SQA website, download past papers for your subject and level and open them with Adobe Reader or Acrobat Pro.
Find a question you want to use, select and copy it.
Go to your Word file, right-click and choose to paste with 'Keep Text Only' so that it doesn't carry over the PDF text formatting - you'll add your own formatting later.
When you paste text from PDF into Word it puts in paragraph marks at the end of each line, so go through the text and replace any unwanted mark with spaces. (Click on 'Show/hide invisibles' in the toolbar to see the paragraph marks.)
To copy an image or graphic from the PDF, try clicking on it - if it gets highlighted, just copy and paste. If the image doesn't highlight, click on Edit > Take a Snapshot and draw round the image, then copy and paste in the usual way.
Save the PDF as a Word document
If you have an electronic PDF past paper, or have scanned a paper into PDF with Acrobat Pro, you can try saving it as a Word file. This may make it easier to work with.
In Acrobat Pro, click File > Save as, then choose 'Word format'.
Click on 'Settings' and choose either:

Retain Flowing Text: use this if you want to edit the text – for example if you want to change the font or font size. It doesn't match the PDF quite as accurately as Retain Page Layout though.
Retain Page Layout: use this if you want a Word version that looks quite like the PDF. The disadvantage is that the text is all in floating text boxes, which means formatting gets messed up if you change the font or font size.
Try it and see how you get on – you may actually find it quicker to either copy and paste the questions you want, or save the text and open in Word.
Save the PDF as plain text
If you plan to use several questions from a PDF paper, or the complete text (e.g. for an English Reading paper), it may be quicker to save the paper as a text file rather than as a Word file. The advantage of this is that you don't have spurious Word formatting mucking up the paper.
Open the paper with Acrobat Reader or Pro.
Click on 'File' and choose either:

Save as Text (Plain) - Plain text is usually more useful because it doesn't have line breaks at the end of every line, whereas Accessible Text does, and you'll just end up having to take them out.
Text (Accessible) - Saving as Accessible Text does, on the other hand, save 'Alt text' descriptions for images, and form fields.
Once you have saved your text file, right-click on it and choose to open it with Microsoft Word. Edit it in Word, convert to PDF and then add your answer boxes.