ClaroPDF is free from the App store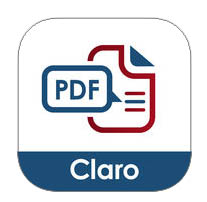 Summary
ClaroPDF is a good option for accessing Digital Question Papers. It's main advantages over PDF Expert are that you can change the page colour and the text reader tools in ClaroPDF are slightly easier to use. ClaroPDF Pro (£9.99) offers more downloadable voices including Scottish Fiona and Rhona, and text recognition for converting photos to readable text plus other features. The PDF Expert drawing tools, particularly the snap function and palm rejection, are possibly better than ClaroPDF for drawing in exams.
1. Opening papers
ClaroPDF can open papers from OneDrive, iCould, Google Drive and DropBox.
You can also AirDrop the paper - make sure that AirDrop is disabled before the candidate starts the assessment!
2. Viewing the paper
Pinch to zoom in or out. PDF papers are not reflowed when you zoom in and so if you need a very large font, you will probably have to scroll the paper around to read it.
One of ClaroPDF's good features compared to other apps is that you can choose from different coloured backgrounds, which can be some helpful for learners with visual stress or reading difficulties. Tap the Paper+Cog button in the bottom right to choose the background page colour.
Paper+Cog button lets you choose the Scroll Direction (vertical / horizontal) and Scroll Mode - either single or multiple pages. You can also choose to have a Scrollbar showing page thumbnails at the bottom, or not.
3. Navigate around the paper
Turn pages: flick at the left or right edge of the screen.
Table of contents: tap the Open Book at top right then the Bullet List to see the index of questions.
Bookmarks:

tap the Open Book then

the ribbon to add a bookmark. This could be helpful to mark a paragraph or a question. Tap the bookmark to remove it.
Answer Boxes:

tap the Open Book then

the comment button to see a list of all the answer boxes and annotations you have added.

Go to a specific page: tap the page number in bottom left and insert the page you want.
Page Thumbnails: tap the grid of dots in bottom right to navigate to pages.
Search: tap the 'magnifying glass' to search for a word or page number.
4. Reading with text-to-speech
ClaroPDF can use the built-in iPad Speak Selection tools but it also has good text reading tools within the app. Tap the Cog at top left then Settings to choose the voice and how the reader operates. There are a two main methods you can use:
Select the text to be read, then tap 'Speak This.'
The 'Speak on Tap' setting is easier and quicker than selecting the text because you just tap the sentence and it's read out. Use 'Stop after sentence' for reading papers with small amounts of text.
Free ClaroPDF uses the system voices on the iPad, while ClaroPDF Pro offers a range of free voices in different languages, free downloadable voices including Fiona (Scottish accent) plus paid-for voices also in different languages.
Word definitions: select and word and choose 'Define' to read a definition. Note that definitions and dictionaries are not permitted in examinations and so the dictionaries should be should be deleted. To do this, open a definition then tap Manage in the bottom left. Swipe left to delete the dictionaries. They can be downloaded again, but not if the iPad isn't connected to the internet - which it should not be, in the examination.
5. Typing into answer boxes
Tap on an answer box and type the answer.

The iPad prediction and other writing supports can be used, as can Siri and Voice Control dictation.

ClaroPDF has a Play button to read back your answer.
Tick boxes are selected by tapping.
6. Drawing, comments and annotation tools
ClaroPDF has a good selection of tools for drawing and annotating, although there is no palm rest or snap function.