Available from the App store for free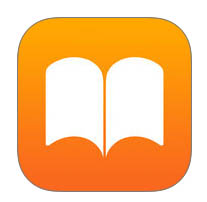 Summary
Books is provided free on the iPad. It may be suitable for some candidates for viewing and reading a question-only DQP, but you cannot type into answer boxes, so is not the best for question-and-answer papers.
1. Opening papers
Copy the DQP into a 'cloud file storage' solution such as OneDrive or Google Drive then go to the app on the iPad, find the paper and open it in Books.
2. Viewing the paper
Pinch to zoom in or out, or double-tap on a page to have it fill the screen width. The PDF papers are not reflowed when you zoom in and so if you need a very large font, you will probably have to scroll the paper around to read it.
You can't change the colours in the app - use the iPad Invert Colours or Colour Filters.
Viewing several PDFs at the same time in iBooks is not possible.
3. Navigate around the paper
Turn pages: tap or flick at the left or right edge of the screen.
Table of contents: tap the Bullet List in the top left then the Bullet List button to see the index of questions.
Page thumbnails:

tap the B

ullet List in the top left then the Grid button.

Go to a specific page: tap near the centre to show the controls. Tap the page navigation slider at the bottom to go to the page you want.
Search: tap the magnifying glass to search for a word or page number.
Bookmarks: tap the ribbon to add a bookmark. This could be helpful to mark a paragraph or a question. Tape the bookmark to remove it.
4. Reading with text-to-speech
Set up the built-in iPad

Spoken Content

tools, select the text to be read, then tap '

Speak

'.

Avoid the iPad 'Speak Screen' and 'VoiceOver' tools - the text is often not read out in the correct order.
Word definitions

: select and word and choose 'Define' to read a definition. Note that definitions and dictionaries are not permitted in examinations and so the dictionaries should be should be deleted. To do this, open a definition then tap Manage in the bottom left. Swipe left to delete the dictionaries. They can be downloaded again, but not if the iPad isn't connected to the internet - which it should not be, in the examination.
5. Typing into answer boxes
You cannot type into answer boxes with Books. You can type text 'on top' of an answer box, but candidates will have to be careful to make sure the answer stays within the answer box.
6. Drawing, comments and annotation tools
Books has good drawing and annotation tools and the iPad ruler is useful for drawing straight lines at accurate angles. Tap the Pen button in the top right to open the drawing toolbar.